Simply put, hats surround the head, they draw compliments and add to your confidence.
Hats - whether they complete your uniform, provide protection from the elements or spice up your wardrobe - they do one thing the best. They make other people's heads turn. They serve as statement pieces.
No wonder then that hat-making - millinery - has been a career choice of many. Professional hat-makers, called milliners, have been around for centuries. And, it is over those centuries that hats and caps - largely a fashion accessory - have been invented, revived, adopted and adapted in both trickle-up and trickle-down ways.
Now, we all own or have at least heard of baseball caps, beanies, fedoras and ushankas. But, have you heard of The Breton, The Bumper and The Toque?
If your answer is NO, read on for a comprehensive list of hat types, some of which originated as far back as the 19th century and others that we wear even in 2019. So, the next time you spot someone wearing that hat, you will know what that hat is called!
Basic Hat Types
1. Ascot
Typically made from wool or felt to be worn in the fall or winter, Ascot caps are hard round caps similar to flat newsboy caps (see below).
2. Baseball Caps
The most well-known of all caps is the baseball cap. It is a type of soft cap with a rounded crown and a stiff peak projecting in front. Made to serve a range of occasions, baseball caps give the wearer a sporty and youthful look.
3. Beanie
Popular with both women and men, a beanie is a cap made from wool or cloth often joined by a button at the crown and seamed together around the sides. The
most popular variety is the pom pom beanie
which is a winter beanie with a fur ball at the crown.
4. Beret
A beret is a soft, round, flat-crowned hat, usually of woven, hand-knitted wool, crocheted cotton, wool felt, or acrylic fibre.
5. Bowler / Derby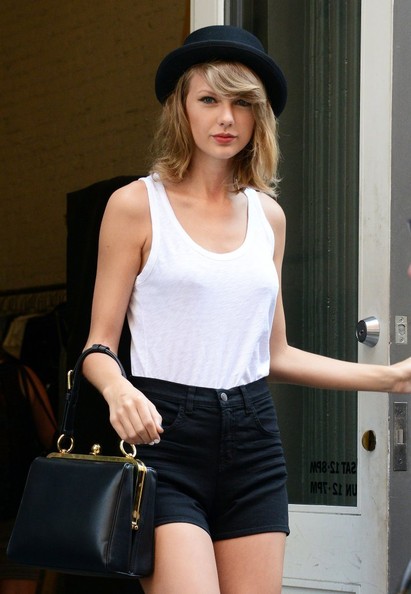 The bowler hat, also known as a billycock, bob hat, bombín (Spanish) or derby (USA), is a hard felt hat with a rounded crown, originally created by the London hat-makers Thomas and William Bowler in 1849.
6. Breton
Breton (or Bretonne) is a hat with a round crown and a deep brim that is turned upwards all the way round, exposing the face. Generally made of straw or felt, Breton hat is typically worn tilted to the back of the head.
7. Bucket / Fisherman
A bucket hat (variations of which include the fisherman's hat, fiddler cap, Irish country hat, session hat and Breton
cap
(not to be confused with Breton
hat
)) is a hat with a wide, downward-sloping brim. Typically, the hat is made from heavy-duty cotton fabric such as denim or canvas, or heavy wool such as tweed, sometimes with metal eyelets placed on the crown of the hat for ventilation.
8. Bumper Brim
A bumper hat has a prominent tubular brim which is either rolled, stiffened or padded. As with all accessories, how you pair the bumper brim hat is crucial to the complete look.
9. Calot / Juliet
Brimless and visor-less, a calot (French for 'cap') or Juliet is a close-fitting cap that sits off the face and has a rounded crown that follows the contour of the wearer's head.
10. Cartwheel
A cartwheel hat (also cart wheel hat), a type of halo hat, is a wide brimmed circular or saucer-shaped headgear usually with a low crown. Worn at an angle to show off the curve of the brim it is made from a variety of materials including straw and felt. 
11. Cloche
The cloche hat or simply cloche is a fitted, bell-shaped hat for women that was invented in 1908 by milliner Caroline Reboux. They were especially popular from about 1922 to 1933. Its name is derived from cloche, the French word for "bell".
12. Cocktail
A cocktail hat is a small, extravagant, and typically brimless hat for a woman. It is usually a component of evening wear and is intended as an alternative to a large-brimmed hat. These hats are often decorated with beads, jewels or feathers, as well as a veil or netting. Cocktail hats were most popular between the 1930s and 1960s.
13. Cowboy
The cowboy hat is a high-crowned, wide-brimmed hat best known as the defining piece of attire for the North American cowboy. Today it is worn by many people, and is particularly associated with ranch workers in the western and southern United States, western Canada and northern Mexico, with many country, regional Mexican and sertanejo music performers, and with participants in the North American rodeo circuit. It is recognized around the world as part of Old West apparel.
14. Deerstalker
A deerstalker is a type of cap that is typically worn in rural areas, often for hunting, especially deer stalking. Because of the cap's popular association with Sherlock Holmes, it has become stereotypical headgear for a detective, especially in comical drawings or cartoons along with farcical plays and films.
15. Fascinator
A fascinator is a formal headpiece for women, a style of millinery, originally of lightweight knitted fabric. Since the 1990s the term refers to a type of formal headwear worn as an alternative to the hat; it is usually a large decorative design attached to a band or clip, sometimes incorporating a base to resemble a hat, in which case it may be called a hatinator.
16. Fedora
A fedora is a hat with a soft brim and indented crown. It is typically creased lengthwise down the crown and "pinched" near the front on both sides. Fedoras can also be creased with teardrop crowns, diamond crowns, center dents, and others, and the positioning of pinches can vary. The typical crown height is 4.5 inches (11 cm).
17. Homburg
A homburg is a hat of stiff wool felt, characterized by a single dent running down the center of the crown (called a "gutter crown"), a wide silk grosgrain hatband ribbon, a flat brim shaped in a "pencil curl", and a ribbon-bound trim about the edge of the brim. It is typically found in dark colours, although variations occur. The original homburg conceived in the 19th century was of slightly more generous proportions than seen in 21st-century versions.
18. Newsboy / Gatsby
The newsboy cap or newsy cap is a casual-wear cap similar in style to the flat cap. It has the same overall shape and stiff peak in front as a flat cap, but the body of the cap is rounder, fuller, and paneled with a button on top, and often with a button attaching the front to the brim (as the flat cap sometimes has).
19. Panama
A Panama hat is a kind of fedora. It is a traditional brimmed straw hat of Ecuadorian origin that also goes by the names Ecuadorian hat and toquilla straw hat. Traditionally, Panama hats were made from the plaited leaves of the Carludovica palmata plant, known locally as the toquilla palm or jipijapa palm, although it is a palm-like plant rather than a true palm.
20. Pillbox
A pillbox hat is a small hat, usually worn by women, with a flat crown, straight, upright sides, and no brim. It is named after the small cylindrical or hexagonal cases that pills used to be sold in.
21. Sailor / Boater
A sailor hat is a brimmed hat. It is sometimes likened to a boater hat with the difference that the sailor has a wider brim than the boater.
22. Toque
A toque is a turban (see below for characteristics of turban) fused with a pillbox that is typically rounded or peaked on one side. Toques use pleated or ruched fabric to create a voluminous turban but have the shape of a rounded pillbox.
Toques come in many variations. A beanie in the picture above is a knitted toque. The tall, round, pleated, starched white hat worn by chefs is also an example of a toque.
23. Trapper / Bomber / Ushanka
An
ushanka
also called an ushanka-hat is a Russian fur cap with ear flaps that can be tied up to the crown of the cap, or fastened at the chin to protect the ears, jaw, and lower chin from the cold. An alternative is to bend the flaps back and tie them behind the head, which is called "ski-style" — this offers less protection from the elements, but much better visibility, essential for high-speed skiing.
24. Turban
A draped turban is a headwear created by winding a length of fabric closely around the head.
A turban hat, similar to the draped turban, is designed by draping fabric to create a hat closely moulded to the head and covers most or all of the hair.
25. Vagabond
A vagabond hat is a variation of the fedora with a round crown and a softer floppy brim.
26. Visor
A sports visor — also called a sun visor or visor cap or tennis cap — is a type of crownless hat consisting simply of a visor or brim with a strap encircling the head. The top of the head is not covered and the visor protects only the face, including eyes, nose, and cheeks, from the sun.
Conclusion
So, the next time you spot a gatsby, you will know better than to call it an ascot!